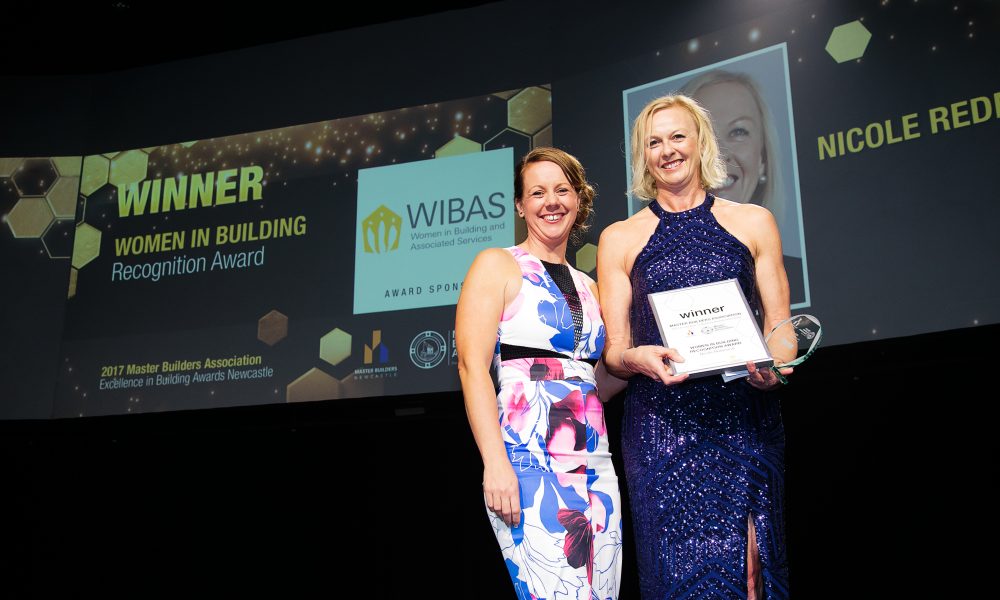 Unite, promote, recognise and foster the development of women in the building and construction industry.
About WIBAS
The purpose of Women in Building & Associated Services (WIBAS) is to provide an environment where women can network with their colleagues, exchange ideas and experiences that will support and mentor the other women, whilst obtaining relevant, specialist industry specific information.
The group was initially created to represent women who work in the building industry or a related service to the industry. WIBAS is supported by the Master Builders Association, the leader in Australia's Building and Construction Industry for housing, commercial and infrastructure projects for over 130 years.
The Master Builders recognises and supports the enormous contribution women make to the building and construction industry and provides ongoing professional development through the WIBAS Forums.
Become a Member
WIBAS Membership allows you access to network with a range of women from the same industry as yourself, as well as providing up-to-date information about the current happenings within the building industry.
For a small one off payment of $50 per individual person, $200 for a company (up to 5 persons) your membership will include the following:
Membership Certificate to Women in Building & Associated Services
Continuous membership with WIBAS – no renewal fees each year
50% discount for your first forum for you and a colleague
Members discounted rate to all forums held by WIBAS
Personalised name badge, recognising you as a WIBAS Member
Electronic Newsletters
Free access to a Business Brag at a WIBAS Forum
Click here to download WIBAS Membership Application Form
WIBAS Awards
The Women in Building Recognition Award recognises women who have made a positive impact in the industry. The Award was established in 2007 by the Women in Building Group, and the Award is presented each year at the Master Builders Excellence in Building Awards.
Do you work in the construction industry?
Do you feel as though you've made a positive impact for the construction industry?
Are you associated with any committees, boards or groups within the construction industry or an associated service?
Have you made a personal contribution to the community or are you involved in any community programs which relate to the building and construction industry?
If you can answer 'yes', to any of the above criteria, you could be the person we're looking for!
Contact Kerri Richards in the MBA Newcastle Office for more information on 02 4953 9400
Past Winners
2017 – Nicole Redmond, North Construction & Building
2016 – Leeanne Farmer, MBA Insurance Services
2015 – Joint Winners:
Jennifer Bates, NSW Public Works
Gillian Geraghty, APP Corporation Pty Ltd
2014 – Linda Knox, Lianda Constructions Pty Ltd
2013 – Louise Morrison, Hansen Yuncken
2012 – Melanie Wilde, Wilde Legal
2011 – Erin Maddison, Designed Dimension
2010 – Rebecca Low, Kingston Building Pty Ltd
2009 – Debra McKendry-Hunt, McKendry-Hunt Architects
2008 – Dot Hissey, Robinia Building Pty Ltd
2007 – Maryka Gibson
WIBAS Forums
WIBAS host business Forums every three months. Women within the industry can add value to their businesses by attending the Forums and keeping up to date with all levels of the industry. Women attending the Forums come from a broad range of businesses, including building companies, kitchen manufacturers, plumbing supplies, bricklaying, concreting, plastering, and landscaping. There are also women from associated services to the building industry within the WIBAS group such as Solicitors, Accountants and Local Council and Authority representatives.
Upcoming Forums & Past Events
See our Facebook page for more details
Committee
President – Sarah Parry-Jones, Earp Brothers
ph 02 4962 5500  sarahpj@earp.com.au
Vice President – Simone O'Connor, APP Corporation Pty Ltd,
ph 02 4928 7600  simone.oconnor@app.com.au
Treasurer – Haley Tibbetts, Master Builders Association Pty Ltd
ph 02 4953 9400 htibbetts@mbansw.asn.au
Secretary – Helen Giggins, School of Architecture & Built Environment, University of Newcastle
ph 02 4921 5771  helen.giggins@newcastle.edu.au
Social Media – Kimberley Seath, APP Corporation Pty Ltd
ph 02 4928 7600  kimberley.seath@app.com.au
Committee Members –
Faith Eeson, Foccale Safety Management
ph 02 4968 2199   fayees@optusnet.com.au
Rebecca Pothecary, Hays Specialist Recruitment,
ph 02 4962 5500  rebecca.pothecary@hays.com.au
Rebeccah Kilmurray, Master Builders Association Pty Ltd
ph 02 4953 9400  rkilmurray@mbansw.asn.au
Sarah Skillen, Forsythes Recruitment
ph: 0428 606 602  sskillen@forsythesrecruitment.com.au
For further information visit the WIBAS website